The de Havilland Canada Beaver (DHC-2) is without a doubt the ultimate and most versatile bush plane ever built in the world of aeronautics.
The Beaver's success is due to its simple design and excellent short takeoff and landing capabilities, even with heavy loads.
The DHC-2 Beaver excels on floats, wheels and skis.
A redefined model that outperforms the legend!
The combination of the BX wings with the legendary Pratt & Whitney Canada PT6A-34 turboprop engine makes the BX Turbo Beaver the greatest improvement on the DHC-2 airframe in decades.
The ambitious re-engine program had to meet the latest Transport Canada AWM523 and FAA FAR23 requirements, which are much more stringent and complex than when the Beaver was certified in 1948. To achieve this, many of the original aspects and systems have been improved and modified to include the new powerplant.
The modification has been designed by an experienced team of Transport Canada delegates, designers and technicians renowned in their respective disciplines.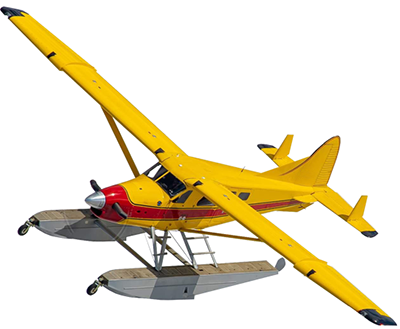 | | |
| --- | --- |
| Factory new BX wings per SA97-88 | Stainless steel custom exhaust stacks |
| Factory new Pratt & Whitney Canada PT6A-34 turboprop engine | Carbon fiber air inlet |
| Factory new Hartzell 106'' three bladed propeller, reversible, full feathering, start locks and spinner kit | Electrical actuated inertial particle separator & ice bypass |
| Factory new electronics international MVP-50T engine monitoring | New lightweight & fire-resistant carbon fiber cowlings |
| Custom heavy duty engine mount | Oil system with oil cooler & hoses |
| Hutchinson engine isolators | Completely redesigned fuel system |
| 200 AMP Ametek starter generator & generator control unit | New bleed air cabin heat |
| Propeller and overspeed governor | New avionics and redesigned instrument panel |
| Np & Nf tachometer generator | Fresh set of technical publications |
| Concorde lead-acid stainless steel encapsulated battery | |
| | |
| --- | --- |
| Stall speed (FLAP 35) | 68 MPH |
| Take off ground roll (runway) at sea level, gross weight, ISA | 453 FT |
| Landing ground roll (runway) at sea level, gross weight, ISA | 474 FT |
| Take off ground roll (water) at sea level, gross weight, ISA | 570 FT |
| Landing ground roll (water) at sea level, gross weigt, ISA | 582 FT |
| Max rate of climb at sea level, gross weight | 1,922 FT/MIN |
| Max rate of climb at 12,000 FT, gross weight | 1,704 FT/MIN |
It is its proven performance and versatility that make the PT6A the engine of choice for single and twin-engine aircraft used in demanding, high-power, high-cycle applications, whatever the mission.
The PT6A is the only engine authorized to operate under Instrument Flight Rules (IFR) for single-engine commercial passenger aircraft in North America, Europe, Australia and New Zealand.
Valdor Aircraft manufactures seats specially designed for DHC-2 aircraft. These seats increase cargo space while improving passenger comfort. The folding seats can be divided into two sections, single and double, in order to adapt the space to the travel requirements.
In addition, they are fully stowable to maximize space. They can be easily removed without tools. Their chromoly tube design makes them strong and durable. The fabric color can be coordinated to match the aircraft color.
Seats can be installed by Valdor Aircraft team or by the buyer. Our team provides technical support.